Dedicated to Uplifting Our Community
Born in 2020, The Antero Foundation is a joint project between Antero Resources and Antero Midstream. The foundation was formed to continue Antero's rich history of charitable giving. It focuses on expanding community involvement and cultivating new charitable partnerships while ensuring future giving aligns with Antero's core values of protecting our people, communities and the environment.
Our Mission: Philanthropy and Volunteerism
Antero Gives Back
The Antero Foundation strives to build thriving and healthy communities by supporting nonprofit organizations where Antero operates, and our employees work and live. Currently, we focus our giving on communities in West Virginia and Ohio.
$3M
Donated in the last five years
As of September 1, 2023 • 2022 ESG Report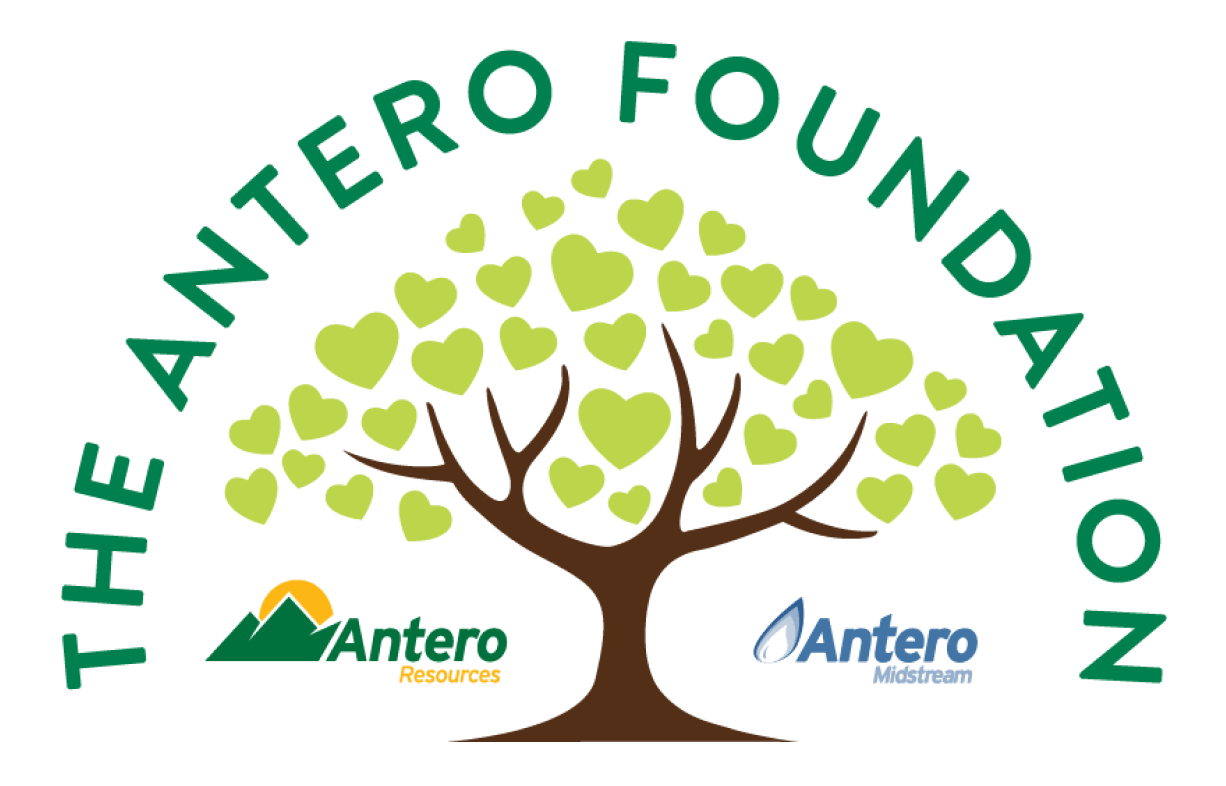 Meaningful Partnerships that Meet Immediate Needs
Education
We believe all children deserve the opportunity to reach their full potential. Accordingly, we support programs that make high-quality, comprehensive, and meaningful educational opportunities available to all children, from early childhood through high school. We do not directly fund individual scholarships.
Environmental Causes
We support the conservation and restoration of ecosystems where we live and work. We do not fund programs, projects, or organizations to support lobbying or political activities.
Community Development
We invest in programs that make our communities stronger and more sustainable through civic engagement and economic and workforce development. We emphasize local business development, neighborhood revitalization, and civic / youth involvement.
Health and Human Services
Antero values the health and well-being of our employees and community members. We support programs and initiatives that focus on disease prevention, substance abuse, mental health, and basic needs such as food, shelter, and safety. We do not fund gifts directly to individuals
Arts & Culture
We seek to enrich our communities by expanding access to the arts. We focus on children's programs, community arts facilities, restoration/enhancement initiatives, and local performance groups. We do not, at this time, directly fund individual scholarships.
Antero Foundation Grants
Our philanthropic work focuses on programs that deliver lasting value to our local communities in WV, OH and CO. Typically, awards will not be granted for more than three consecutive years. Grant requests exceeding $15,000 are subject to additional oversight.
Who We Support
We contribute solely to 501(c)(3) nonprofit organizations or state or local governmental organizations formed exclusively for charitable purposes.
Programs and projects that benefit the areas and communities where Antero operates and where employees work and live (currently West Virginia and Ohio).
Organizations that focus on:

Education
Environment
Community Development
Health and Human Services
Arts and Culture
We support organizations whose mission and activities align with those of Antero and the Foundation. We do not support individuals, other private foundations, golf tournaments or beauty pageants, or programs located outside Antero's operational area. We also do not support organizations without 501(c)(3) status (including foreign organizations, political, lobbying or labor groups), most religious organizations, or organizations that discriminate against protected classes of individuals.
Apply for a Grant
Grant requests may be submitted at any time by completing an online application. Deadlines vary according to the amount requested. To receive funding, all grant recipients must sign a grant agreement specifying the terms and conditions of the grant, the purpose of the grant, and the use of funding.
Amounts of $15,000 or Less
Please submit applications for grants of $15,000 or less at least six weeks before the funds are needed.
Amounts Exceeding $15,000
Requests exceeding $15,000 are reviewed quarterly. Please submit these requests by the first of February, May, August, or November to receive funding approval in the following month. Grantees receiving over $15,000 are required to submit progress reports every six months, as well as a final report documenting how the funds were used and what objectives were met. The Foundation reserves the right to conduct follow-up visits and expenditure audits as necessary and to withhold or recover funds that appear to have been misused.
For Assistance in the Grant Application Process
For assistance with a grant application, please contact our grant office at:
The Antero Foundation
Attn: Stephanie Iaquinta
535 White Oaks Blvd.
Bridgeport, WV 26330
Fax: 304-842-4102
Jefferson Awards Program
Local Jefferson Award recipient and national nominee, Stephanie Hayhurst-Hall, was recognized for her public service, particularly as a children's advocate. An adoptee herself, Stephanie is now an adoptive parent with husband, Jason, in Pennsboro, WV. Stephanie explains,


Stephanie Hayhurst-Hall
"Her story is so inspiring to us, not only because she's our daughter, but because her story reflects a lot of the children who are in foster care, and their stories. When she came to us she was sad and broken, but once she got into our home and we could be a happy family, seeing her transition was just so inspirational to us. She is a healthy, happy seven year old and you would never know the trauma she experienced. We want to see that for all children in foster care so we continue to advocate because of her. She inspires us every day."
Community service and volunteerism are what keep WV strong. Multiplying Good recognizes outstanding volunteers in local communities through the Jefferson Awards program. Antero Resources finds value in those who put their community first and we are proud to partner with WDTV 5 News to honor the unsung heroes of local WV communities. Nominate someone you know today.

Click here to nominate a volunteer in your community.
The Antero Foundation: Recent News
Helping Our Communities Thrive
For more than 10 years, Antero has partnered with the people of Appalachia to power local communities and protect their land and resources. We are proud to contribute well-paying jobs, infrastructure, royalty payments, and other forms of support to the communities where we operate.
Our Environmental, Social, and Governance Efforts